Press Release – New partnership with gategroup
20/04/2021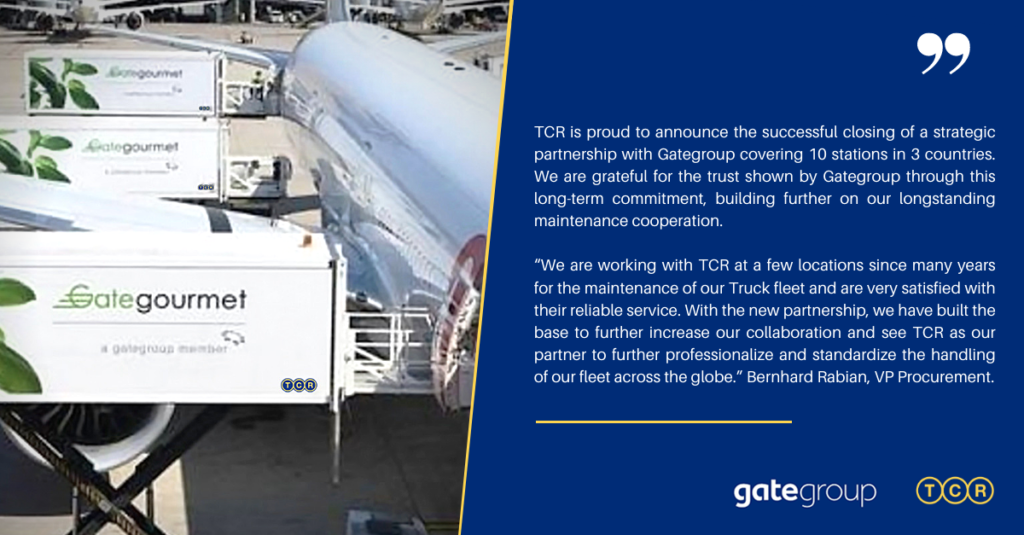 TCR is proud to announce the successful closing of a strategic partnership with gategroup covering 10 stations in 3 countries. We are grateful for the trust shown by gategroup through this long-term commitment, building further on our longstanding maintenance cooperation.
"We are working with TCR at a few locations since many years for the maintenance of our Truck fleet and are very satisfied with their reliable service. With the new partnership, we have built the base to further increase our collaboration and see TCR as our partner to further professionalize and standardize the handling of our fleet across the globe."
Bernhard Rabian, VP Procurement
About gategroup
gategroup is the global leader in airline catering, retail-on-board and hospitality products and services. gategroup provides passengers with superior culinary and retail experiences, leveraging innovation and advanced technology solutions. Headquartered in Zurich, Switzerland, gategroup delivers operational excellence through the most extensive catering network in the aviation industry, serving more than 700 million passengers annually from over 200 operating units in over 60 countries/territories across all continents. In 2019, gategroup reached CHF 4.9 billion in revenues generated by approximately 43,000 employees worldwide. For further information, please visit www.gategroup.com

About TCR
TCR Group is the leading company in full-service rental of ground support equipment for the airport industry, present worldwide at over 130 airports in 20 countries and with over 30,000 owned assets. Since 1999, TCR has its headquarters at Brussels-Zaventem international airport. The solutions offered by TCR range from full-service operational rental, sale & rent-back, telematics to consulting on GSE fleet management issues.